There are bound to be questions about this site, Sherman County's history and its records and resources. The most frequently asked questions are answered here and we will add more as we move forward. If the question you have is not answered here feel free to contact me.
Thanks for stopping by!
~ Sherry Woods Kaseberg
Questions:
Why did you create this website?
Where did you get the information?
How did you get interested in local history?
Do you offer research services?
Why did you create this website?
History contained herein is presented to honor Sherman County's storytellers and record keepers. Those who shared their stories with me deserve to have them shared with others.
It's truly the work of many.
I'm grateful to have been in the right places at the right times with teachers, family members, community elders, professors, journalists, publishers, photographers, cartographers, geologists, archaeologists, geographers, surveyors, historians, preservationists, genealogists, storytellers and public record keepers, including members of the Oregon Geographic Names Board, Oregon-California Trails Association, Sherman County Historical Society and Oregon Historical Society.
Wilferd A. Peterson put it this way: "When we become more fully aware that our success is due in large measure to the loyalty, helpfulness, and encouragement we have received from others, our desire grows to pass on similar gifts. Gratitude spurs us on to prove ourselves worthy of what others have done for us. The spirit of gratitude is a powerful energizer."
It's my gift to you!
Where did you get the information?
For decades, I listened, took notes, asked questions and filled a filing cabinet organized by business, cemeteries, churches, government, maps, military, mysteries, newspapers, railroads, resources, rivers, roads, stories, trails, timelines and towns.
In addition to the storytellers, there are print sources. The Illustrated History of Central Oregon, 1905; The Golden Land by Giles French; These Things We Note by Giles French; They Paved the Way by Bertha Belshe; and Sherman County Historical Society's twice-yearly publication, Sherman County: For The Record, 1982-2016 inspired research in the public records: marriages, births, deaths, deeds and town plats. My notes were used in Sherman County Place Names, Streets and Roads, 3rd Edition, 2009.
How did you get interested in local history?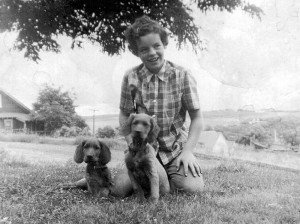 I think I was born curious! Asking my parents, teachers and relatives … Why? Where? Who? How? When? I listened.
Growing up in Moro, 1942-1955, first through 12th grades, I was interested in the town, the families, shops and shop keepers, and the school, church, city park, creek and cemetery.
I listened with respect to stories told by my parents, great-aunts Etta May (Woods) Moore and Mollie (Robinson) McLachlan and great-uncle Jim Woods in Moro, and my grandparents during summer visits. They inspired my first genealogical research and I learned that all history is local.
In fourth grade the story of the orphaned Sager children on the Oregon Trail inspired a pencil and crayon map on butcher paper. My fifth and sixth grade teacher, Grace (May) Zevely, captured my interest in local history, geography, geology, maps and rivers with field trips.
A school assignment required interviews of several town elders, including Giles and Lela French, for a history of Moro. That assignment was a challenge and a gift! I listened to their stories as they described old photographs of Moro, pleased by my interest.
Sherman County Journal editor Giles French and Mrs. Zevely continued to encourage and collaborate with my developing interest in local history. In 1965 I conducted a survey of the county's gravestones and listened to stories offered in support of that project. I took notes.
In 1982, while a member of the Sherman County Historical Society board of trustees, the local American Legion post donated their building to the Society for use as a museum. It was with a leap of faith that the board received local history artifacts with stories to tell and an enormous responsibility. I was a volunteer 1982-2015, and enjoyed an experience rich in education, collaboration, cooperation, new friends, stories, publishing and amazing successes. See Sherman County: For The Record http://www.shermanmuseum.org/html/sc_publications.html
I'm especially grateful to Larry Kaseberg for his enduring patience and support, and to our sons who tagged along on local history field trips.
Do you offer research services?
No. The Sherman County Historical Museum offers an extensive genealogy file, a small research library, photograph archives and Sherman County: For The Record. Check the Notes and Stories page.
There are no foolish questions and no man becomes a fool until he has stopped asking questions. ― Charles Proteus Steinmetz